AMAZING OUTLAW LINKS
America is the strongest country in the world today, only because it is the freest country and if we ever lose sight of our basic heritage and the principles involved than we will no longer be free.
NEW CRIME BOOKS
 http://tony-stewart-crime-books.webs.com/home.htm
A jail is just like a nutshell with a worm in it, the worm will always get out." John Dillinger made this remark several weeks before he bluffed his way out of the Lake County Jail in Crown Point.
"I thought John was the nicest kindest gentleman that I had ever met, why even my parents thought he was polite and well mannered." Statement by Beryl Ethel Hovious during a 1989 interview.
NEW! Click on the picture above to view Dillinger, The Hidden Truth, Website.
John Dillinger Wanted Poster issued May.15, 1934, for Twenty Five thousand dollars reward. This was the largest sum of money offered for any criminal in the year 1934.

Learn more facts about the infamous outlaws career based on the updated true story "Dillinger, The Hidden Truth." Lets talk about the payoffs, coverups, and the many secrets that the FBI kept hid for years. Also check out and summit your website for The John Dillinger Award for the "Best Bulletproof Site."
Another new site about outlaws of the great depression era. Presenting John Dillinger and several gangster of the day. Another amazing site! Enjoy!
NEW CRIME BOOKS
Lester Gillis, more commonly known as Baby Face Nelson was undoubtably the most dangerous member of the Dillinger gang. Nelson, the killer of five men, three of which were FBI agents. He was stocky build man who stood only a little over 5'4" tall.
Nelson was killed in a gun battle with the FBI on November 27, 1934 near Barrington, Illinois. During the battle Nelson killed both the FBI agents that put seventeen slugs in the outlaws body. There were only four outlaws in 1934 to ever hold the title "Public Enemy Number One" by the FBI.
In order they were: John Dillinger, Pretty Boy Floyd, Baby Face Nelson and Alvin Karpis. Outlaws like Bonnie & Clyde may have been more dangerous than Dillinger but they never made to the FBI's Public Enemy Number one status.
Why? Because they weren't making fools out of the FBI like Dillinger was. However Bonnie & Clyde, and Machinegun Kelly did make it to "Public Enemy Number one" on policemen across the country's list.
NEW!
TONY STEWART'S NEWEST CRIME BOOKS! A MUST TO CHECK OUT!
BOOKS BY TONY STEWART INCLUDE:
· DILLINGER, THE HIDDEN TRUTH – Gangsters and G-Men of the Great Depression era,
· TONY STEWART'S Poem's, Lyrics, and Short Stories,
· JOHNNIE & BERYL DILLINGER – A Page from the Past,
· CRIME ERA - Special Edition (1920's – 1930's)
· DILLINGER, THE HIDDEN TRUTH – RELOADED.
FUTURE BOOKS INCLUDE:
· SCARS OF AFFLICTION – Forgiven, But Not Forgotten
· THE DILLINGER FAMILY SCRAPBOOK – A Geneology Record of Ancestors
· AMERICAN OUTLAWS – Unburied facts from the Graves
· J.F.K. – A Network of Conspirators
· THE RUMOR MILL – Whispers of Anguish
Current and most recent accomplishments include:
Appeared on National Geographic Channel on October 26, 2010 in an International 4-part documentary film, entitled; "Making History - Rise of the Gangster." Interviewed by 360 Productions.
Interview with Peter Boyles on 630 KHOW Denver's Talk Station 7-8-09 http://www.khow.com/pages/boyles.html
Interviewed on Crime Beat with Carl Brizzi Saturday June 20, 2009 (EST) on WIBC, 93.1 FM - WWW.WIBC.COM
Interviewed by Don Babwin of AP Associated Press on June 18, 2009 about new Public Enemies movie. Also contributed to costume designs for actors, Johnny Depp, Christian Bale and others for film "Public Enemies."
Appeared on History Channel - Crime Wave - 18 months of mayhem. Aired in April - 2008. Interviewed by Jupiter Entertainment on an updated documentary on criminals of the 1920's and 30's.
Appeared in ARES World Defense Security Magazine - August 2006 issue
Special appearance on Golden Rose Productions Radio AM 570 Journal, KCFJ AM 570, KCNO 94.5 FM in July 2006
Appeared on Discovery Channel - The Dillinger Conspiracy. Aired March 18, 19, 2006. Interviewed by Morningstar Entertainment of a new documentary.
Interviewed in March 2005 issue of Yesterday's Memories magazine, continued in April 2005 addition. Updated article on March 2007...
History Consultant for Principle Films in London for a program entitled IT Happened Here. The film aired on The Discovery Channel 2002.
History Consultant in the making of several documentary films, including The Real Untouchables Series, by Atlantic Production, which aired April 2000 on The Learning Channel.
Produced a Blues Music Production with brother, musical artist Ron Stewart of Bloomington, Indiana, which aired on 91.3 with 3 hit songs in the top 10 MP3.com charts. Tony Stewart co-wrote a song entitled "Seventeen" with Ron Stewart.
Other projects include theatrical writing, screenplays, producing, directing and acting in several short films for Torrance Community Cable, which include a Public Service Announcement on Crime Prevention in 1989. Founder of The Dillinger Times Club, and several "Award Winning" websites since 1995, depicting depression era gangsters and lawmen.
Sept. 21, 1979 - starred in comedy SWAP MEET with Danny DeVito
In 1978, published article for Surfer Magazine entitled Unknown Surfers in Redondo Beach, California.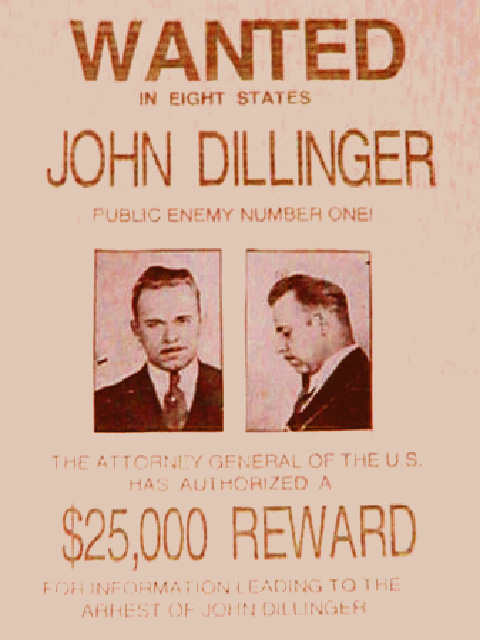 Although my favorite criminals are the bank robbers of the nineteen thirties, I also share strong interests in mobsters like Al Capone. Mario Gomes from Montreal displays a truly Fascinating collection of Alphonse "Scarface" Capone Memorabila on this extraordinary Website. Capone was the most powerful man in Chicago during his heyday and remains one of the giant legends in the journals of criminology.
If you want a professional Website designed by the very best please out Diane Tremblay's site at www.multimedia-designs.com. Diane is a Multimedia Developer and a talented design artist.
NEW! Dillinger, The Hidden Truth, Website. Based on the new book coming soon to book stores near you. Site includes updated new evidence correcting the myths over the years and an insight on the book.
Alcatraz Penitentiary, also known as "The Rock." Alcatraz was a Federal Penitentiary from 1934 to 1963 and was said to have housed America's most dangerous criminals. Criminals like Alvin Karpis, Al Capone, Doc Barker, Machinegun Kelly and many others.
Please feel free to contact me and leave all your questions or comments. I promise I will get back to you as soon as possible.

Thank you very much